Return to exhibitions
& paintings
Téigh ar ais chuig taispeántais
& pictiúir
This page features the exhibition 'A year in West Clare'
exhibited in Galway, Ennis, Dublin, and Limerick, Ireland during 1997


Sheeaun, Kilmaley, Ennis, Co.Clare, Ireland. Email contact
Telephone: (065) 6839383 (International: +353 65 6839383) Mobile: (086) 8074125 (International: +353 86 8074125)
All work on this web page is copyright Andrew Newland. Unauthorised use prohibited without the artist's permission
---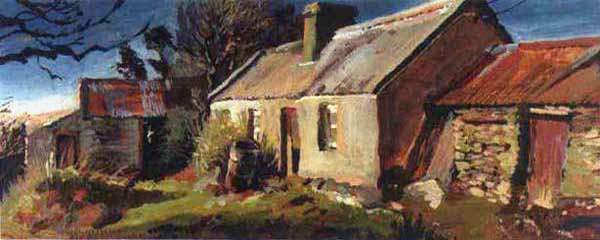 520829
The house from the yard in wintery sunlight, Sheeaun, Kilmaley, Co. Clare, Ireland
Acrylic on board 150 x 380 mm (6 x 15 inches)
An exhibition of paintings depicting each month of the year
at Sheeaun, Co. Clare in the West of Ireland, exhibited during 1997 at
The Kenny Gallery
Middle Street, Galway, Ireland
21 February - 14 March 1997
The Inis Gallery,
Chapel Lane, Ennis, Co. Clare, Ireland
5 - 24 May 1997
The Kennedy Gallery
12, Harcourt Street, Dublin 2, Ireland
3 - 14 June 1997
The Dolmen Gallery
Limerick, Ireland
24 July - 16 August 1997
Not all paintings were exhibited at all four venues
This exhibition was supported by Clare County Council


520836
Frost in the field to the south of the house, Sheeaun, Kilmaley, Co. Clare, Ireland
Acrylic on board 150 x 380 mm (6 x 15 inches)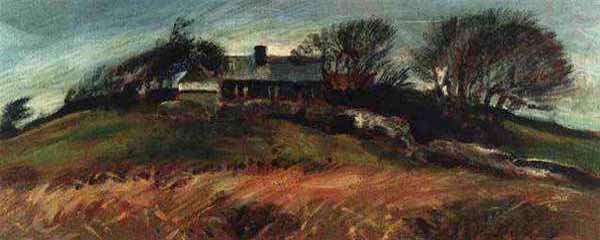 520837
The house and trees from the south. Grey morning, Sheeaun, Kilmaley, Co. Clare, Ireland
Acrylic on board 150 x 380 mm (6 x 15 inches)


520839
Snow on the Been from the field to the west of the house, Sheeaun, Kilmaley, Co. Clare, Ireland
Acrylic on board 150 x 380 mm (6 x 15 inches)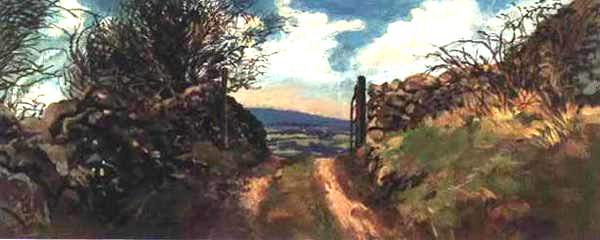 520846
View out through the gate, Sheeaun, Kilmaley, Co. Clare, Ireland
Acrylic on board 150 x 380 mm (6 x 15 inches)

520881
Western sky in the evening. View from the park, Sheeaun, Kilmaley, Co. Clare, Ireland
Acrylic on board 150 x 380 mm (6 x 15 inches)


520892
The old farm up behind us, Sheeaun, Kilmaley, Co. Clare, Ireland
Acrylic on board 150 x 380 mm (6 x 15 inches)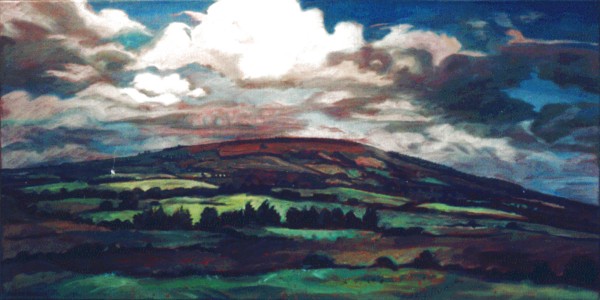 520901
View towards Ben Dash, Sheeaun, Kilmaley, Co. Clare, Ireland
Oil on canvas 510 x 1010 mm (20 x 40 inches)
In 1995, after a great deal of searching for a place to live, our family found ourselves the owners of several acres of land in West Clare. Much of this is bogland but the house stands on a hill of greener fields and is partly surrounded by trees. Within a relatively small area there is a variety of landscapes, and added to this there are views westwards to Mount Callan, eastwards to the hills of East Clare and northwards to the Burren. As a painter the visual appeal of the area was the most important factor.
Progress towards making the house habitable was a slow process but meanwhile the idea evolved of making a series of paintings as a way of getting to know the place better. These paintings were a record of our first full year there, beginning with January and ending with December 1996.
The majority of the paintings were painted on location using acrylic paints. These were all to a common size of 150 x 380 mm. I chose the wide landscape format deliberately to bring out the sense of space the place has, especially on the top of the hill. A selection from each month's work was exhibited in chronological order to show the progress of the year. In addition some paintings were grouped together within the same frame where there was a common theme. I also produced some larger studio paintings in oil on canvas, derived in part from the smaller studies.
The theme of this exhibition derived in part from 'A Year on The Moor' which portrayed a year's walking and painting on Dartmoor. Selected paintings from this project were shown at several venues in South West England during 1993, commencing with an exhibition at the High Moorland Visitor Centre in Princetown, Dartmoor, Devon.
---
Go to exhibition 'Radharc aniar - a view from the west'
---
Link to The Kenny Gallery and Bookshop.